Inluv w/ ChiTribe: Introducing Jewish Speed Dating Mixed with Matchmaking
April 17 @ 7:00 PM

-

10:00 PM

$36
Get ready to find your perfect match! ChiTribe and InLuv Matchmaking are thrilled to announce an exciting new Jewish Speed Dating program on April 17th at Yours Truly in River North, Chicago.
With matchmaker Talia Aloush creating matches before you ever even arrive, this event promises to be unlike any other!
From 7-10pm on April 17th, join other Jewish singles and start your journey towards finding your perfect match. Through our detailed application form, InLuv and ChiTribe will assess everyone's individual preferences and provide the best possible matches for in-person conversations during the event.
All of the dates will be pre-selected by the InLuv and ChiTribe team to ensure that everyone has the best possible experience. With a capacity of 100 people, this event is for ages 21-35. We will be carefully vetting all applicants to ensure that everyone is a great fit for this unique experience.
Based on capacity and compatibility, we will match you on at least 5 dates.
Take your time filling out your application and get ready for a night of exciting connections and meaningful conversations. Don't miss out on this exclusive event – secure your spot now and get ready to meet your match!
*This registration is an application to the event. We have limited capacity and will make choices based on compatibility. If you are not accepted to this event, you will receive a full refund to your credit card on April 17th (in case we have open spots, and can include you!)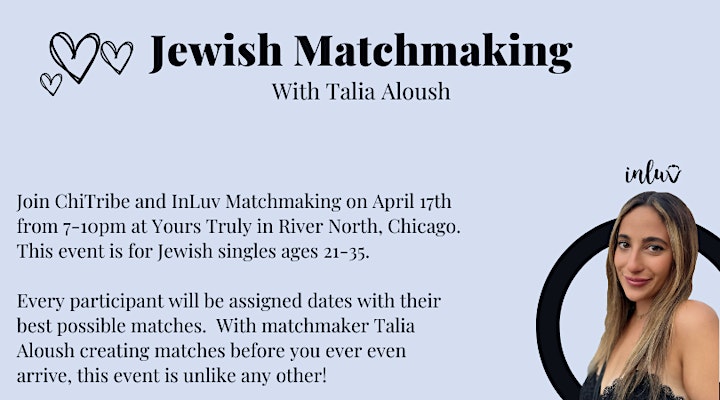 FAQs for Jewish Speed Dating
What is Jewish speed dating?
Jewish speed dating is a matchmaking process designed to enable Jewish singles to meet a large number of potential partners in a short period of time.
How does Jewish speed dating work?
There will be 20+ tables labeled with a number, and each couple will be assigned a specific placement in the room. Participants be matched based on interests and ages for short dates with other singles in a controlled environment. Each participant is guaranteed 5 dates based on compatibility.
Who can participate in this Jewish speed dating event?
The upcoming Jewish speed dating event on April 17 is specifically for ages 21-35. This event is open to all Jewish singles in this age range who are interested in meeting other Jewish singles for dating and potentially finding a long-term partner. This event is open to the LGBTQ+ community!
How many dates can I expect to go on at a Jewish speed dating event?
Participants can expect to go on at least 5 dates during this Jewish speed dating event. These dates will be pre-determined based on your application. You will only be talking to people who we think you will get along with.
What should I wear to this Jewish speed dating event?
Dress code for Jewish speed dating events is business casual or dressy casual attire. Feel good!
What happens after the event? How will I know if I have any matches?
After the event, within five business days, participants will receive an email cc-ing them with any matches they made during the event.
Are Jewish speed dating events only for people looking for serious relationships?
Jewish speed dating events are designed for singles who are serious about finding a partner for a long-term relationship.
What happens if I don't find any matches at the event?
If a participant doesn't find any matches at the event, they can attend future events or explore other dating options. Talia Aloush is a professional matchmaker who can be retained for continued dating success. We recommend to keep trying out new events using the ChiTribe calendar.
Related Events